Traditions have always been important in our family.
My husband was very proud of his Norwegian heritage and he found great joy and pride in sharing his family's traditions with our two children, especially when it came to preparing Norwegian foods. He was as adamant that our family NOT continue his family's holiday tradition of making lutefisk (codfish preserved in lye) as he was about continuing the tradition of making lefse and krumkake. Every holiday involved him and our two kids in the kitchen, for hours, messily preparing these two Norwegian favorites. Having lefse and krumkake to enjoy eating was part of the motivation for making them, but it was also about the experience of them doing it together that made it most special and memorable over the years.
Nothing reminded me of this more than having our first holiday in 2021 without my husband. His unexpected death last April created a void during the holidays. We not only missed his presence, but we also missed the traditions we came to know and love as a family with him – including making lefse and krumkake.
I was thinking a lot about traditions as the holidays were approaching. I thought about our family's past traditions. I thought about the traditions we might continue in his honor and which traditions we might start as a family moving forward without him.
Simply said, I've been thinking a lot about family traditions.
Traditions are experiences or activities that are recreated, year after year, and are usually passed down between generations. Traditions connect us to our past and create memories for us that last a lifetime. Many of our most magical memories of childhood can be linked back to traditions we shared with our family.
When most of us think of family traditions, we naturally think of holiday traditions first. But families can also have non-holiday traditions and ones that are as often as daily or weekly that are unique to them.
Daily traditions can be the small things you do each day as a family, such as sitting and eating a meal together around the dinner table or reading a storybook together before bedtime.
Weekly traditions can also be small activities you do together like holding game night every Friday night or attending religious services together each week.
Annual traditions can be those special activities you do once a year as a family, such as going to the stadium on the opening day of baseball season, apple picking in the fall, camping in the summer or picking out a Christmas tree.
Life change traditions celebrate milestones, such as going for ice cream on the last day of the school year, passing down a family heirloom, like a piece of jewelry, at each wedding or baking a special cake that is a personal favorite of a family member celebrating a birthday.
The time you put into creating and maintaining family traditions year-round has more positive impact than you might know:
Traditions teach and reinforce your family's values.
Traditions help impart the values to your children you think are important. Attending a Christmas Eve church service reinforces the importance of faith and the true meaning of Christmas. Game night reinforces the importance of family time. Serving at a soup kitchen reinforces the importance of serving others.
Traditions provide a source of identity.
Traditions help establish a sense of "This is us! This is what we do. This is who we are." Traditions help your children understand who they are and create a stronger sense of belonging and connection and a feeling they are part of something unique and special.
Traditions help your family bond closer together.
Family traditions keep generations connected and give them something special in common. Coming back together for family traditions gives us a sense of home and helps us feel grounded.
Traditions ensure that you take time for emotional connection.
It's all too easy for time to slip by without really being "present" with our loved ones. Traditions help bring us together face-to-face with our family members and reconnect us to one another during our busy lives. Even during difficult times in life, family traditions can be a bright beacon of light or an anchor of strength that helps us find our way through this crazy world.
Traditions create lasting memories for your children.
Traditions help create the warm, nostalgic feelings we get when we think back to our childhood. When we think about what we most remember about our childhood, it's typically the most simple, everyday traditions, like family dinners, holiday get-togethers and bedtime stories.
Traditions provide your kids with security.
The predictability and consistency of traditions provides your children with the security and comfort they can depend on, especially during turmoil. One of my friends said that when her kids were little and life felt upside down due to divorce, their daily and even weekly traditions brought a sense of stability to them and are traditions they still want to observe even now when they are adults.
Traditions provide your family with roots and wings to flourish.
Families change. Individuals change. We grow up. We get married. Sometimes we get divorced. And we lose people we love to age, illness and accidents. While we want to continue our connection with loved ones through family traditions, it is important to recognize that traditions can change as our families change. Family traditions can stretch and bend and change with each year and still keep us rooted in place.
Starting new traditions will take time, commitment and planning. The important thing to remember is that your family traditions can be anything you want them to be. What is most important is ensuring you have some traditions established in your family.
Give some thought to your family traditions.
What are some traditions you fondly remember from your childhood?

Why are they still important to you today?

Which traditions have you continued into adulthood or with your own family?

What are some of your family's daily, weekly, annual or holiday traditions?

Is your family in need of new or more traditions?

What is at least one tradition you can start in the next three months?
Visit with your family to identify what traditions might be valuable for all of you to continue, but also begin new.
For some non-holiday traditions, here are a few ideas that might spark something for your family:
Volunteer each spring in the annual community cleanup.

Cook hamburgers on the grill on Saturdays during the summer.

Take a silly family selfie during summer vacation each year.

Buy food for the local food pantry once a month and deliver it together.

Serve in a local soup kitchen together once a month.

Go apple picking or visit a pumpkin patch each fall.

Have a particular food on a set day each week, such as brunch on Sunday, breakfast for dinner on Friday or tacos on Tuesday.

Build a fire and make hot chocolate on the first day of winter.

Take part in an annual fitness challenge as a family.

Go on a family walk or bike ride every Sunday afternoon.

Watch the sunrise together on the first day of summer and the sunset on the last day of summer.

Plan a regular family game night and play board games together.
If you're looking to create new winter or holiday traditions with your family, here are some ideas that might get your creative juices flowing:
Give everyone a new set of pajamas and take a family photo in your matching PJs.

Give each child a board game or puzzle and play the games or assemble the puzzles together as a family.

Watch a seasonal movie, like "Home Alone," "Elf," or "The Grinch."

Cook a meal together as a family on your family's special holiday.

Get hot chocolate and watch a community tree lighting ceremony.

Tour your community to look at the light displays on homes or businesses.

Host a family or neighborhood cookie exchange.

Assemble care packages for family members who are away during the holidays.

Write heartfelt letters to family members you can't spend time with during the holidays.

Host a white elephant gift exchange.

Attend a holiday performance or concert each year.

Get a new piece of holiday-related decor, like a Christmas ornament, each year, or make an ornament to commemorate the past year.
Our family changed with the passing of my husband. While my children will likely continue traditions in their families they fondly remember with their dad, such as making lefse and krumkake, I came to realize that it is also ok to change our family's traditions moving forward.
Our family's holiday ended up being a wonderful experience. It was a nice balance of old traditions mixed with new traditions. A new tradition we started as a family (and one of my favorites!) is wearing matching pajamas for our family Christmas photo!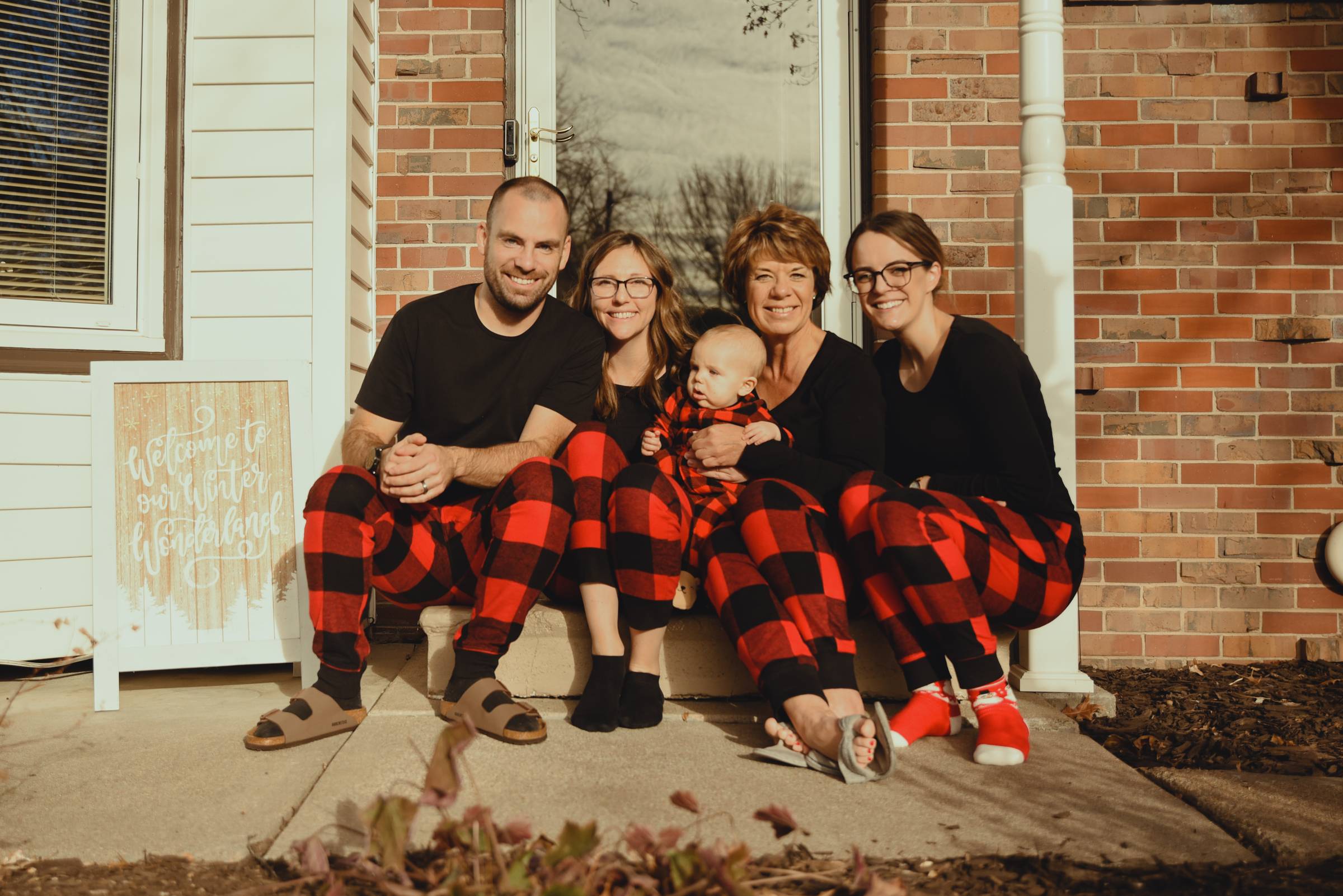 No matter what your family traditions are or what your family chooses to create, just having something for all family members to look forward to each year and throughout the year is important. Traditions help create warm, positive memories that can be recalled fondly in the best and the worst of times and draw family members back to one another year after year. And, when done right, traditions can lend a certain magic and spirit not just during the holidays, but to your everyday life.